On Sale
Artisanal Tea Set
This unique one-off artisanal tea set has been beautifully hand-painted by a local Taiwanese artist by the name of Leslie Chang, and was fired in a century old kiln located in a small village in the high mountains of Taiwan.

The set contains one tea pot, two cups, and two saucers.
The Signficant Tea Set Collection
Imagine waking up in the morning, you are in a foreign land, high up in the foothills of even higher mountains. The morning dew is still thick and wet, and the clouds are low and the best views hidden from joy. You sit on a balcony huddling your first cup of tea. Closing your eyes while you hold the cup in your two hands. Then, the drama begins.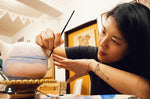 Artisans and Tea
One time, one off, every few months we will offer a tea set that will be inspired by  scenes from Taiwan's landscape. The artists create designs inspired by their own personal experiences then hand paint the tea set that then goes to a hundred year old kiln in a village in the high mountains.
Inspiration
The designs on this unique one-off tea set are inspired by the beautiful Sun Moon Lake located in the mountains of central Taiwan.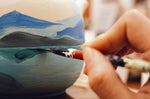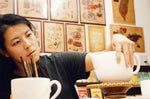 The Local Artisan
Our first set was designed and painted by Leslie Chang who has specialized in bringing food to life through art.
In her own words:
"The design stems from the natural mountain scenery of Sun Moon Lake, a theme that I love to paint in recent years. The golden ball on the top of the pot symbolises the sun, with its rays emanating out to create reflections along the mountain ridge and the lake. This creates different hues on two sides of the pot: blue in the morning and pink and purple at dusk. This theme also extends to the cups and saucers, which display a detailed outline of the shape of Sun Moon Lake as seen from the sky."

Leslie Chang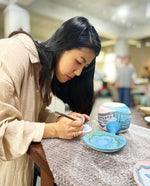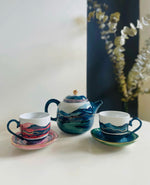 The Finished Product
A ceramic tea set of exceptional quality, inspired by Taiwan's Sun Moon Lake and hand-painted with dedication and care. Its subtle hues of red, green, and blue, coupled with gold gilding is sure to make your morning or afternoon tea session not only enjoyable, but story worthy!